Skip to Content
A Nod To Ross's Vision
With a legacy dating back to 1926 when famed golf architect Donald Ross chose an old dairy farm as the perfect setting for his "Carolina 9" course, the foundation of the Waynesville Inn & Golf Club has always been one of understated excellence. The 165-acre historic property is now home to 18-holes of breathtaking golf, 72 well-appointed guest rooms, 6,000 square of event space, a picturesque Event Lawn and dining concepts that expertly complement any occasion. Members and guests, alike, can expect state-of-the-art facilities and amenities encapsulated within a legacy as timeless as the surrounding mountainscape.
The property's heritage dates back to Jack Welch, a local dairy farmer who was deeply invested in his land. As Waynesville gains a reputation as a health retreat, Jim Long acquires the farm and sees a golden opportunity. With the help of friends, he sets out to create an extraordinary golf course.
OUR PAST A LOOK BACK
Waynesville Country Club is brought to life from a sketch by legendary architect, Donald Ross, on a simple napkin. The first nine holes are crafted to perfection. The old dairy barn is given a new lease on life, transforming into a clubhouse with a card room, dance hall, and a cozy golf pro's living area.
Thanks to the passionate support of the community, the club purchases an additional 50 acres, paving the way for completion of the former Dogwood course, which played an integral part in the transformation of what is now the Back 9.
The Lodge is created with local stone and a pro shop in the basement. Soon, affluent Southern families are visiting, taking part in a new American hobby – golf!
Visitors would often stay for a month or even longer, prompting the need for additional space. This leads to the construction of the charming Woodcrest building as a part of the Lodge, which also includes a full kitchen and dining room.
W.T. Eller and his son-in-law George Kimball soon realize that Waynesville Country Club is a diamond in the rough. Following the purchase in 1946, they initiate a series of improvements that transform the club into a premier golf destination. The putting green is added, Brookside is constructed, the iconic TapRoom is born, along with a 150-person conference space, pro shop and locker rooms - all perfect additions to a club that was already steeped in history.
A group of investors, including Jonathan Woody and General Sumter Lowry, purchase the property. Improvements continue, including the first-ever irrigation system and a modern swimming pool to replace the "old mud hole" which used creek water for the pool supply.
Interesting fact: If you wander around, you'll stumble upon a plaque beside the back patio flagpole pointing towards a five-story lighted cross on the hill that is dedicated to General Lowry's late daughter, who passed away from leukemia.
Thanks to the new owners, Mr. and Mrs. William Hall, the hotel property undergoes an extensive transformation. Most of the rooms get a complete makeover, providing guests with greater comfort and enjoyment. The grounds are significantly enhanced, and additional acreage is purchased for construction of the Blue Ridge Course which is completed in 1986. The Dogwood and Carolina courses are also redesigned to provide golfers with an excellent experience. The four-story tower and Pavilion are added and now connect the Lodge, and Woodcrest, creating a setting like no other in the area and a favorite spot for receptions and other events.
In 2003, the classic Golfview building is upgraded with 28 revamped course-side rooms. It was this same year, the old Brookside building is torn down to make way for a new and improved version that opened its doors in 2005. These brand-new buildings offer a breathtaking vista of the Inn and magnificent Balsam Mountains, along with a special and intimate connection to the course, which you can still find today.
September of 2006, the property is purchased by David Stubbs and Sammy Carver and in 2009 is officially re-named the Waynesville Inn - Golf Resort and Spa to emphasize a public facility and not a country club. The old dining room and kitchen in Woodcrest is made into a restaurant fomerly known as Cork and Cleaver, open to the public and hotel guests for the first time. Additional amenities are added such as a Spa to provide more entertainment opportunities for the non-golfer guest.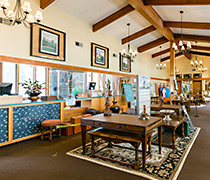 The Raines Company purchases the Waynesville Inn – Golf Resort and Spa. The property undergoes a rebrand with a new logo and name, the Waynesville Inn & Golf Club. In partnership with Bobby Weed Golf Design, the course begins an extensive renovation to become an 18-hole 6,500 yard championship golf course with bent grass tees, fairways and greens. The Original 9 is restored and practice facilities are added including a lighted Himalayan putting green, short game chipping/bunker area, full driving range and par three short course. Brookside and Golfview get a new look with updates to both the exterior of the buildings and the rooms. Both restaurants are reconcepted, redesigned, and renamed to The Grille and the Watershed Tavern. The Inn is thoughtfully reimagined to include a fresh color scheme, new carpet, wall coverings, furniture, and other modern touches all while maintaining its original charm. Newly constructed four-bedroom cottages are added to the Waynesville Inn & Golf Club – the perfect stay for families or guys' golf trip.
The Waynesville Inn & Golf Club renovation is complete, and members and guests can now enjoy all that it has to offer. The Raines Company is incredibly proud to bring this vision to life. Golf is a passion of theirs, and the chance to merge it with their love for hospitality at such an iconic site is incredibly thrilling. They believe that with the legacy of this famed golf course as the foundation, they have created a true destination for golf and hospitality. The mix of refined amenities and facilities coupled with top notch golf create an allure way beyond the beautiful mountains that surround this property. And so, on this cow pasture where Donald Ross sculpted his vision, Raines is excited to now have sculpted theirs.